Customer Story
West Virginia University Utilizes (Poppulo) Software to Create a Centralized Digital Signage System
Enhancing the student experience.
↓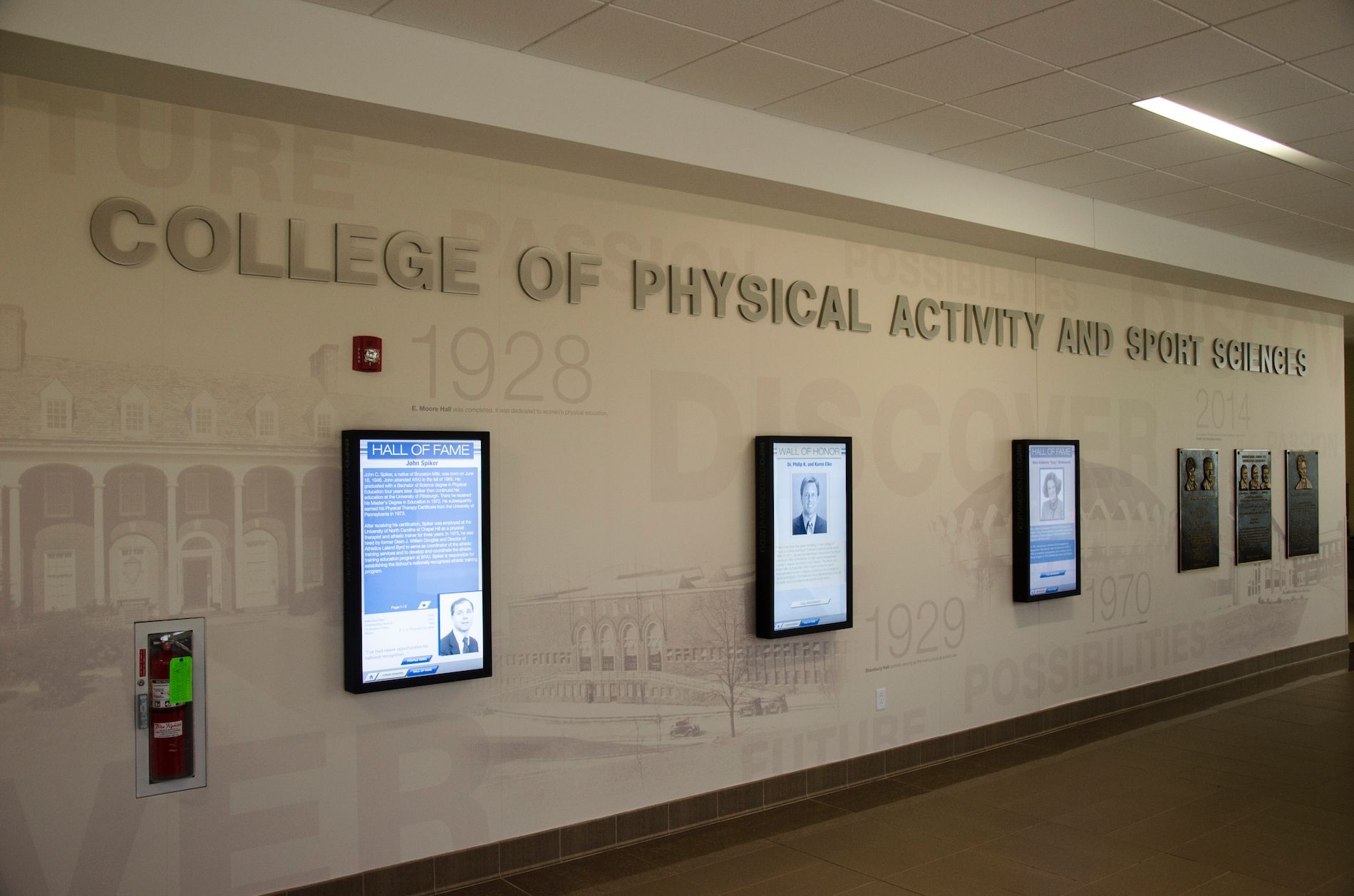 West Virginia University (WVU), a land-grant institution home to more than 28,000 students at its Morgantown campus, is widely considered the state's premier higher education institution.
Introduction
When WVU approached (Poppulo) in 2013, the University had a pre-existing digital signage network consisting of 80 screens, called InfoStations. The signs were used for daily campus-wide, site-specific and automated emergency alert messaging.
After reviewing multiple other providers, WVU selected the (Poppulo) platform due to its superior flexibility, network security and high level of functionality which are important factors in digital signage for schools and education. In only three years with (Poppulo), WVU created eight unique interactive touchscreen experiences, more than 50 unique templates, and expanded their network to include over 140 screens across their Morgantown campus. They are currently expanding that network to their additional regional campuses.
The Challenge:
WVU was looking to update their pre-existing content management solution.
They needed additional flexibility within the template management and scheduling functions as well as the ability to leverage interactivity for donor recognition and hall of fame projects. The University also wanted to enable building-specific wayfinding.
With legacy hardware and software in place at the time, WVU needed a Windows-based Content Player solution that was able to access live SQL databases and had the ability to continue to play timely information—even if the player lost internet connectivity.
The new Content Management software also needed to be flexible enough to play multiple unique templates based on time of day, location and interactive functionality.
The Solution:
(Poppulo) and WVU partnered to implement Content Manager and Content Player software, providing the University with access to multiple new features while maintaining the previous emergency messaging capabilities.
Once the (Poppulo) software was set up on the InfoStations' servers, WVU's staff immediately began leveraging the new scheduling and variable-based opportunities available to them. The University then implemented more non-interactive InfoStations across WVU's Morgantown campus, which has been highly beneficial for students, faculty, staff and visitors. With the completion of the WVU Health and Education Building in 2014, the University began leveraging interactivity for the Hall of Fame and Wall of Honor at the College of Physical Activity and Sport Sciences. Additionally, WVU's two primary software managers gained the ability to centrally control every aspect of the institution's digital signage network while also enabling various user groups to access and update custom content databases. This functionality gives each group ownership of the content displayed on their screens.
The Results
The success of WVU's Visual Communications network can be measured by the rate of its expansion and the variety of ways it is used every day.
Since implementing (Poppulo)'s platform in 2013 on 80 screens, the network has grown to include140 endpoints. As new construction projects are planned around campus, the University's Facilities Planning, Design, Construction and Scheduling teams scope InfoStation implementations into those designs. With various uses around the campus ranging from general InfoStations through departmental specific signage, wayfinding stations, interactive donor walls and more, WVU relies on the (Poppulo) platform to power their digital signage.