Say Hello to a Better Way to Communicate
Poppulo is revolutionizing the future of communications and workplace experiences.
In a Scattered World, We Bridge the Gaps
We help businesses connect people, systems, and ways of working to deepen relationships and move forward together. And we do that at enterprise scale. 
At Poppulo, we're working on what's next in communications and workplace technology. As a pioneer in this industry, we understand that meaningfully reaching every employee is hard. And so is managing office space in a hybrid world. And so is improving the customer and guest experience. We exist to make each of these things easier. We exist to bring harmony to our customers. 
We unite the people you need to reach—from employees to customers—with the right message at just the right moment in time. Our Poppulo Harmony communications and workplace experience platform creates meaningful connections, giving you exactly what you need to realize your most audacious goals.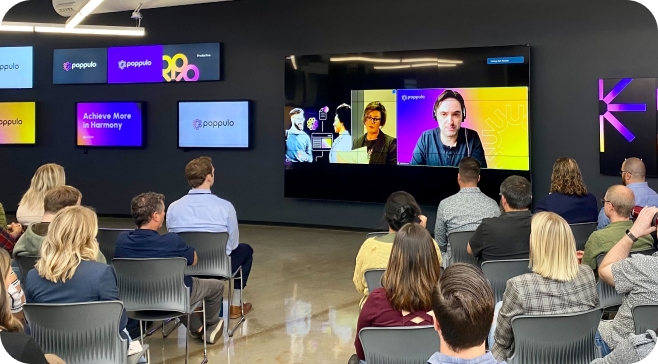 Connecting People and Achieving More
At Poppulo, we know comms. Since 1996, we've been obsessed with helping our customers build connections with their most important audiences—their customers and their employees. Why? Because we held a firm belief that effective communications are not just a business need. They are a human need too. We still hold that belief. And that's why we build solutions for businesses that are designed to help the people at the core of every company. 
Along the way, our desire to help customers solve their biggest challenges has led us to combine with like-minded companies, Four Winds Interactive and SmartSpace. So today, Poppulo brings all employee and customer comms, as well as workplace management technology together. Now, that's what we call harmony.  
Connecting People Is Our Ultimate Goal
Poppulo is setting the new standard for communications and workplace experiences at scale. You can now send employee and customer comms that are personalized, engaging, and measurable. And your workplace can have a positive impact on the employee experience. 
We bring renewed energy to your business, creating a world where simplicity emerges from complexity and clarity overcomes uncertainty to inspire new levels of performance.
We call it harmony. That ideal state where everything is humming along efficiently. Because when people are connected, energized, and moving together with purpose, there is no limit to where we can go.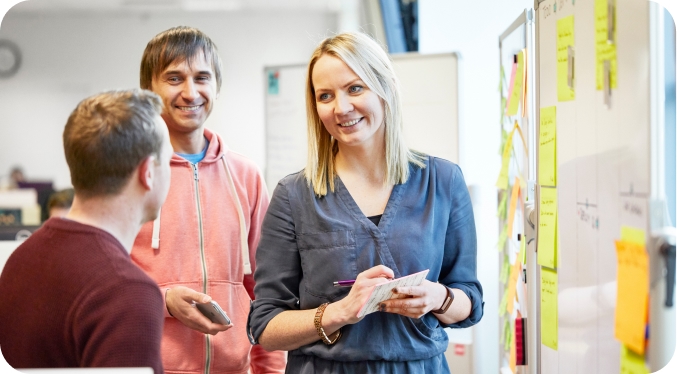 Our goal was to turn our extended team into experts in delivering personalized, relevant and targeted content. Our communications experience platform, [Poppulo], made that possible.
Rachel Robin, Augusta University 
Visit Our Offices
Find us at these locations.
Denver, Colorado
1221 Broadway, Denver,
CO 80203,
United States
info@poppulo.com
P: +1 303-313-3000
Waltham, Massachusetts
77 Fourth Avenue
Waltham, MA 02451
United States
info@poppulo.com
P: +1 781 443 7600
Cork, Ireland
5100 Avenue 5000
Cork Airport Business Park
Cork, Ireland – T12 YE28
info@poppulo.com
P: +353 21 242 7277
Luton, UK
The Village, 250, Great Marlings,
Luton LU2 8DL,
United Kingdom
info@poppulo.com
P: +44 845 094 5686