Customer Story
VOX Cinemas Creates an Immersive Guest Experience With Visual Communications
Enriching the guest experience
↓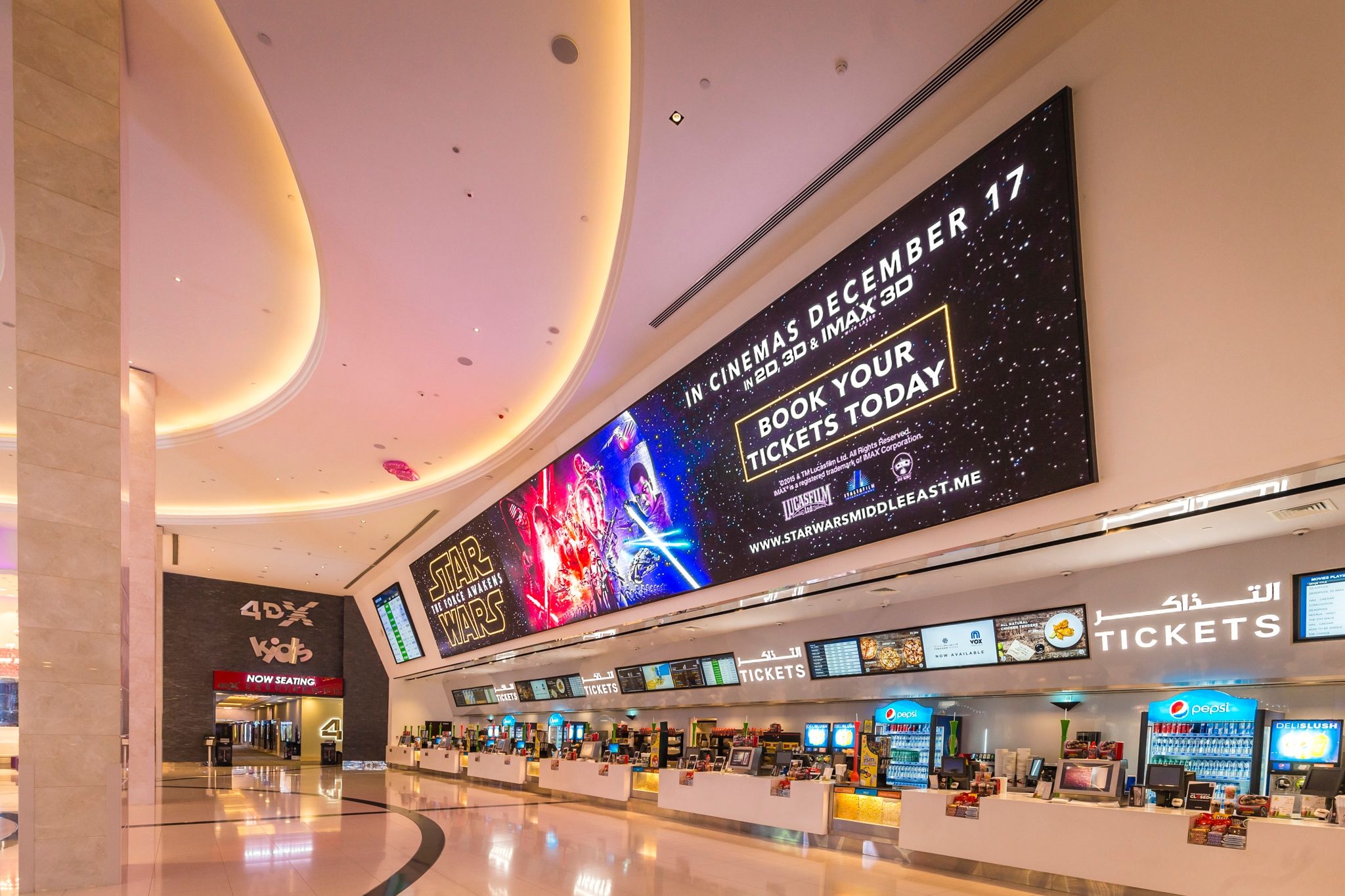 VOX Cinemas provides an unmatched guest experience that starts upon entering the complex and extends through their five unique viewing opportunities
Introduction
From the exclusive 4DX experience with motion seats and effects like rain, fog and wind through their Michelin Experience THEATRE by Rhodes, large screen IMAX, cinemas for their youngest customers, VOX Kids and technologically advanced standard cinemas; each VOX concept elevates the idea of choosing a cinema experience that caters to every occasion, every blockbuster and every customer segment.
Surpassing traditional movie theatres in every conceivable way, VOX Cinemas blends technology with grandeur to create an immersive guest experience. They use large format screens throughout their complexes to dynamically display upcoming movie trailers, event announcements and more.
With such high customer expectations on the line, VOX Cinemas turned to the (Poppulo) Visual Communications platform to deliver engaging content on screens throughout their facilities.
The Challenge:
VOX Cinemas approached (Poppulo) with a multitude of requirements. They needed a platform with enhanced scheduling flexibility, improved video streaming and easy data integrations. Additionally, they required frame-by-frame video syncing, simple playlist creation and an intuitive endpoint management system.
In expectation of continued growth, they sought a license structure that allowed for rapid expansion and would enable them to maximize the reach of their Visual Communications network. When VOX Cinemas decided to make the switch to (Poppulo), they expected a quick transition in order to ensure that the guest experience was uninterrupted.
The Solution:
(Poppulo) met each requirement. (Poppulo)began powering 58 large format customer-facing displays, all with video streaming and syncing capabilities. These screens include video walls on pillars and an impressive LED display at the entrance to the Mall of the Emirates location.
From every part of the cinema complex, guests can see screens of various sizes playing different content, and all of them are powered by a single platform. Real-time movie scheduling is shown on video walls throughout their complexes, with the remainder of the screens showing advertisements and movie trailers. They also have video walls showcasing Twitter, Facebook and Instagram feeds in order to foster ongoing customer engagement.
The Results
The transition to (Poppulo)'s enterprise Visual Communications platform was handled quickly and professionally, with no interruption to the customer experience.
Additionally, (Poppulo)'s intuitive scheduling and management system ensures simple content creation and deployment, regardless of the number of endpoints. With (Poppulo)'s video streaming capabilities, VOX Cinemas was able to improve the delivery of content and provide cohesion between screens. For large premieres and other events, VOX Cinemas can now easily deploy screen takeovers that are frame-by-frame synced across all movie trailer screens. Due to these successes, VOX Cinemas is rapidly moving forward with expansion plans.