Wayfinding and
Directories
Give your audience a way forward with digital wayfinding solutions.
Simplify Navigation with Digital Wayfinding
When in an unfamiliar setting, people want intuitive access to directions. Wayfinding signage and directories help anyone navigate your space.
Intelligent Routing
Change routes based on the time of day, traffic patterns, and to keep people moving efficiently.
Flexible Digital Wayfinding Options
Provide a mix of wayfinding solutions—directional and interactive wayfinding—to better help your audience navigate your space.
Improve the Visitor Experience
With our powerful directory and digital wayfinding software, you can help your visitors find what they're looking for, then navigate there quickly and safely.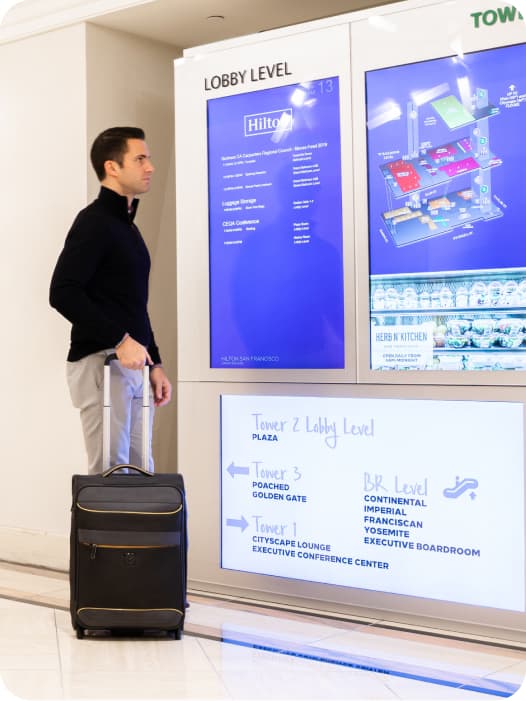 35+ million
Employees Reached
47
of Fortune 100 Companies
500,000+
Digital Signs Powered
50 million
Messages/Week
Create an Interactive Experience Through Wayfinding
Combine wayfinding with resource and space management capabilities to enable your audience to reserve space and navigate with ease
Book space and navigate from the same screen

Improve the on-site experience

Display available space from the wayfinding screen
Learn More About Resource and Space Management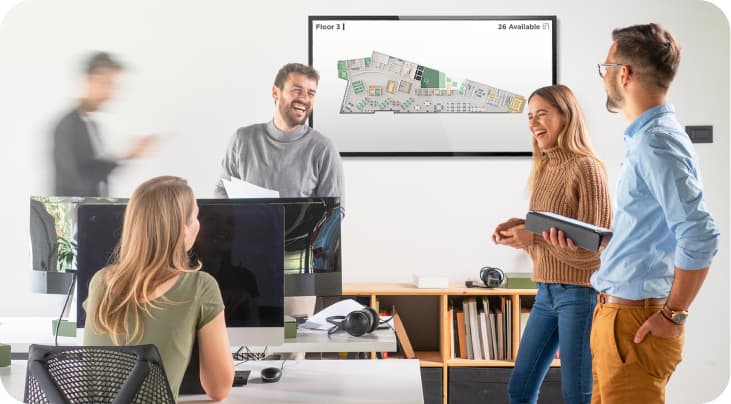 Integrate Your Digital Signage and Wayfinding Systems
Integrate your business systems to automatically keep your location, amenity, and people data updated, simplifying how your audience finds what they need with digital wayfinding.
Integrate with a variety of data sources

Dynamically update business listings

Provide dynamic, variable routing
Learn More About Integrations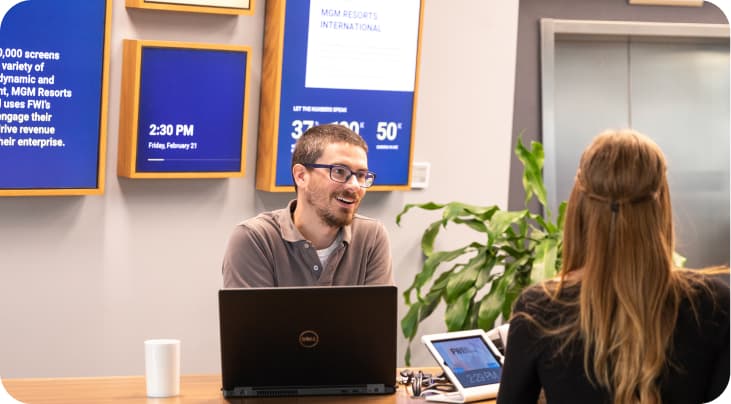 Authoring & Contribution
Build, deploy, and manage any type of digital signage application, including interactive and directional wayfinding with the Harmony platform.
Democratize content contribution

Leverage role-based access

Manage content on the fly
Learn More About Authoring & Contributions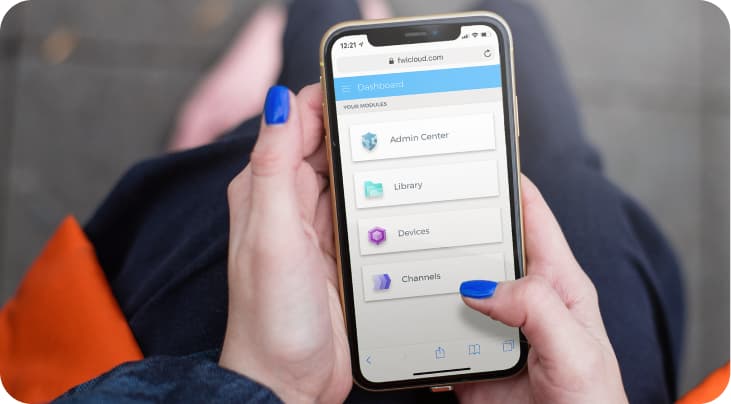 Professional Wayfinding Signage Services
Gain access to our extensive professional services offerings, ensuring you get the most value out of your digital wayfinding software solution.
Digital signage map design

Ongoing digital signage network management

Implementation services
Learn More About Services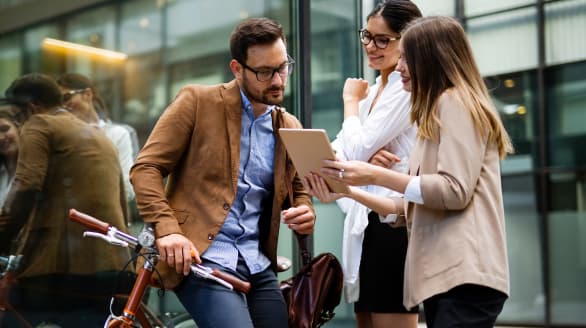 See More of What Poppulo Has to Offer
Related Industries
Transportation
With the Harmony platform, you can provide detailed wayfinding, power any type of Information Display System, and keep your passengers informed and moving toward their destination with ease.
Hospitality & Entertainment
To improve the guest experience, you have to connect with your guests and visitors—giving them information when and where they need it. See how Harmony can help.
Healthcare
Healthcare facilities are complex environments that make traditional comms difficult. The Harmony platform allows you to simplify comms and connect with patients, visitors, and frontline workers on a variety of channels.
We use [Poppulo] to create two distinct experiences: one for visitors and one for employees. The screens in the lobby make a statement about who we are and where we're going, while the employee-focused screens ensure that every member of the DTNA team can easily access important information.
Roderick Flores, IT Project Manager, Daimler Trucks North America
Ready to show your customers, guests, or employees the way?