Employee
Communications
Cut through the noise with relevant messages that reach every employee, everywhere, on every channel.
Bring Harmony to Your Employee Communications—and Your Employees
Transform your employee experience and keep your team informed with an omnichannel comms solution that delivers in-the-moment, personalized messages to every employee no matter where they're working. Imagine comms flowing to the people that need it, when they need it. Imagine your entire workforce moving forward in harmony.
Leadership Comms
Leaders can inspire their teams, communicate their mission, and deliver on goals with the cutting-edge capabilities of the Poppulo Harmony platform.
Build alignment around company goals

Give your leaders the tools for transparency

Foster trust between employees and leadership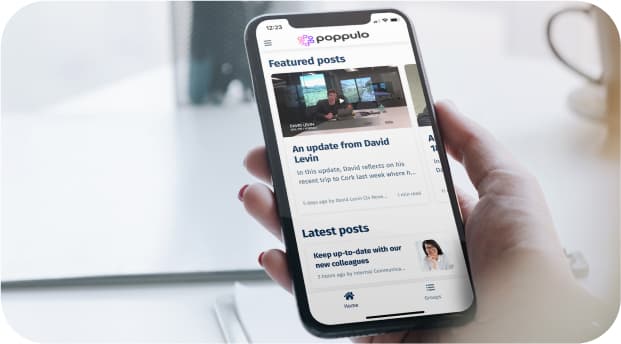 Crisis Comms
Deliver clear, impactful, and actionable crisis communications across all your comms channels—digital signage, email, mobile, Teams, Sharepoint, and more—keeping your organization informed in times of need.
Reach people—quickly

Leverage advanced governance capabilities for comms consistency

Send targeted comms to affected people, departments, regions, or any other segment that's needed
Organizational Comms
Create clear, engaging organizational comms and deliver them to the channels where they'll have the most impact. That's how you move your organization forward in harmony.
Create clarity for your entire workforce

Increase employee engagement

Reach employees where they are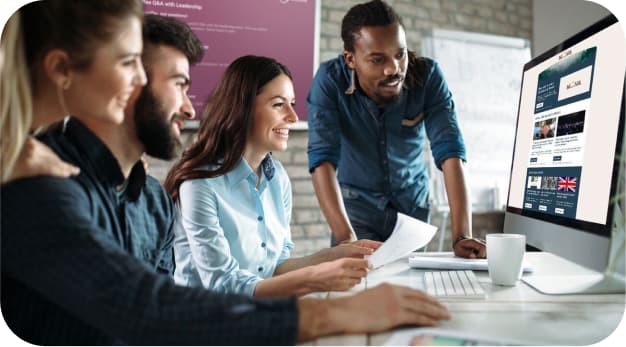 HR Comms
Foster the culture you want, cultivate talent, reduce attrition, and more. With the right communications, delivered at just the right moment in time, you can do all that and more.
Align your people with your business strategy

Make a real impact on the employee experience

Create a two-way feedback loop for insight into employee sentiment
Sales Operations Comms
When you're transparent with your goals, and your team's progress toward them, you can inspire your sales team to reach higher, push boundaries, and achieve more.
Reach sellers, wherever they are

Drive desired behavior with data

Empower your sellers to self-manage with data visualization displays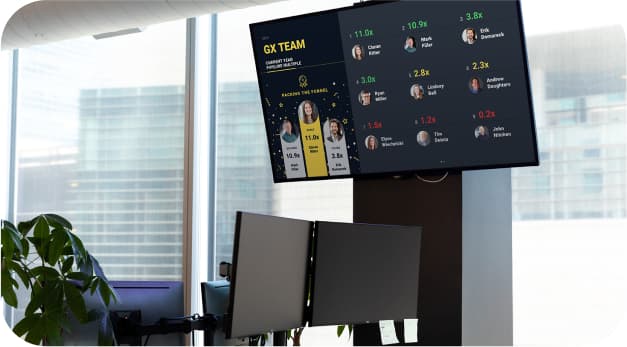 Change & Transformation Comms
Without employee buy-in, change initiatives usually fail. Leverage Harmony to make sure employees are aware of the change taking place, why it matters, and how they can help, to get their help ensuring successful transformation.
Reinforce the need for change

Provide education on timelines and impact

Get insight into employee sentiment and engagement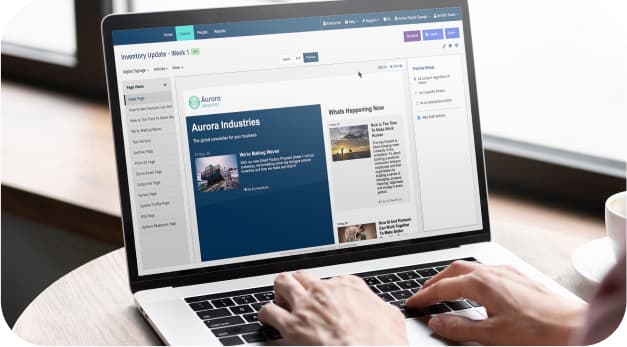 How It Works
Explore the core capabilities of our employee communications solution
Email
Reimagine your number one communications channel with dynamic, personalized, engaging content targeted to individual employees.
Digital Signage
Motivate employees and teams to do more by digitally displaying everything from kudos to in-the-moment updates.
Mobile App
Keep on-the-go employees in the loop—no corporate email required. Up the engagement with push notifications and personalized news feeds tailored to employee interests.
Microsoft 365
Bring the power of comms to employees' existing workflows in SharePoint, Teams, and Viva.
Analytics & Insights
Maximize your employee communications strategy with real-time insights that show which messages resonate the most.
Integrations
Extend the value of your existing technology investments with out of the box integrations and no-code integration tools.
Case Studies
See how the Poppulo Harmony platform helps businesses across the globe.
Industries We Serve
Discover how the Poppulo Harmony platform delivers personalized communications solutions for your industry.
Manufacturing
Reach manufacturing workers to drive productivity, reduce recordable incidents, and engage your deskless workforce wherever they are.
Financial Services
Keep clients, employees, and investors engaged. Poppulo Harmony's omnichannel comms platform makes sharing key messaging with a wide variety of stakeholders easy.
Technology
An industry that evolves quickly needs scalable internal communications and workplace management solutions. The Poppulo Harmony platform delivers that, helping you keep up with the speed of the tech industry.
Healthcare
Healthcare facilities are complex environments that make traditional comms difficult. The Harmony platform allows you to simplify comms and connect with patients, visitors, and frontline workers on a variety of channels.
Transportation
With the Harmony platform, you can provide detailed wayfinding, power any type of Information Display System, and keep both employees and passengers informed and moving toward their destination with ease.
Retail
You used to have to leverage separate technologies to reach customers and employees. With the Harmony platform, you can create immersive customer experiences on digital signage, plus reach and engage deskless workers across a variety of comms channels.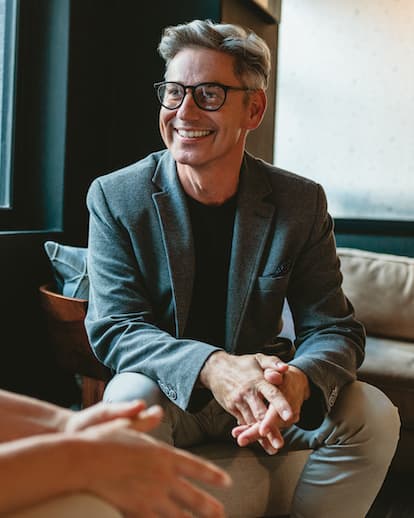 Channels Audit Template: Are Your Employee Comms Channels Working?
This template will help you analyze the effectiveness of each communication channel at your organization and ensure employees don't miss important information.
Increased employee engagement, reduced attrition, improved performance.
Ready to talk about how Harmony can impact your business?