Digital Signage Solutions
Bold, dynamic, and user-friendly. Meet Harmony's cutting-edge digital signage software.
Connect With Employees and Customers With Dynamic Digital Signage
Reach and engage every audience, drive operational efficiency, and showcase your brand and products with modern, dynamic visual displays. Achieve all of that and more with robust digital signage from Poppulo.
Enterprise Grade Digital Signage
What does enterprise-wide communications look like for your business? The Poppulo Harmony platform's digital signage is here to help your business scale communications. Discover how your entire organization can benefit from cloud-based digital signage.
Improve Your Customer Experience and Engagement
Leading brands use Harmony's powerful digital signage software to create unique experiences for their customers, growing loyalty and revenue.
Reach Every Employee
Digital signage lets you connect with employees from the frontline to the back office. With Harmony's cloud-based digital signage software, you can keep employees informed and engaged through dynamic digital content.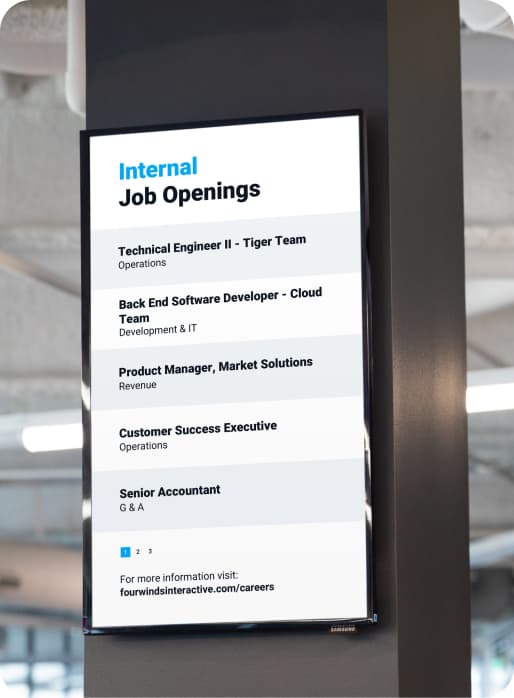 35+ million
Employees Reached
47
of Fortune 100 Companies
500,000+
Digital Signs Powered
50 million
Messages/Week
Digital Signage Software Components
Authoring & Contribution
Bring your vision to life with robust application authoring or use one of our pre-built applications to get content out easily. Empower anyone in your organization to access our intuitive cloud-based digital signage software and contribute content - from apps and images to video and other media - to your signs. Governance and security measures ensure you can easily manage users, permission levels, and approvals.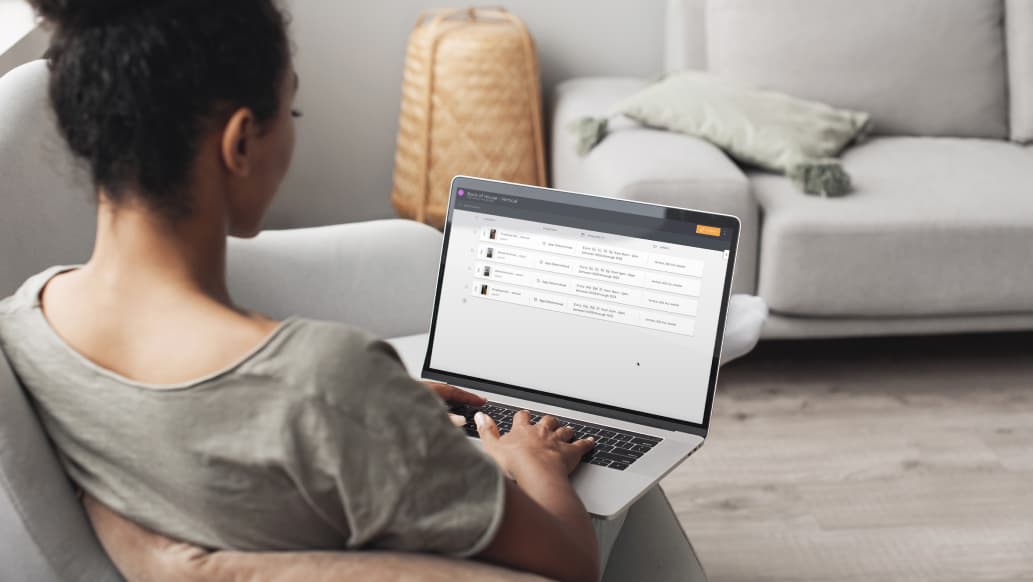 Scheduling & Publishing
Once your content contributors have uploaded content, our platform allows content schedulers to easily assign and publish targeted content to any of your company's screens, or to web, helping deliver more dynamic experiences, all from a single place. Hyper-targeting capabilities ensure your content gets to the right screen, at the right time, in the right format.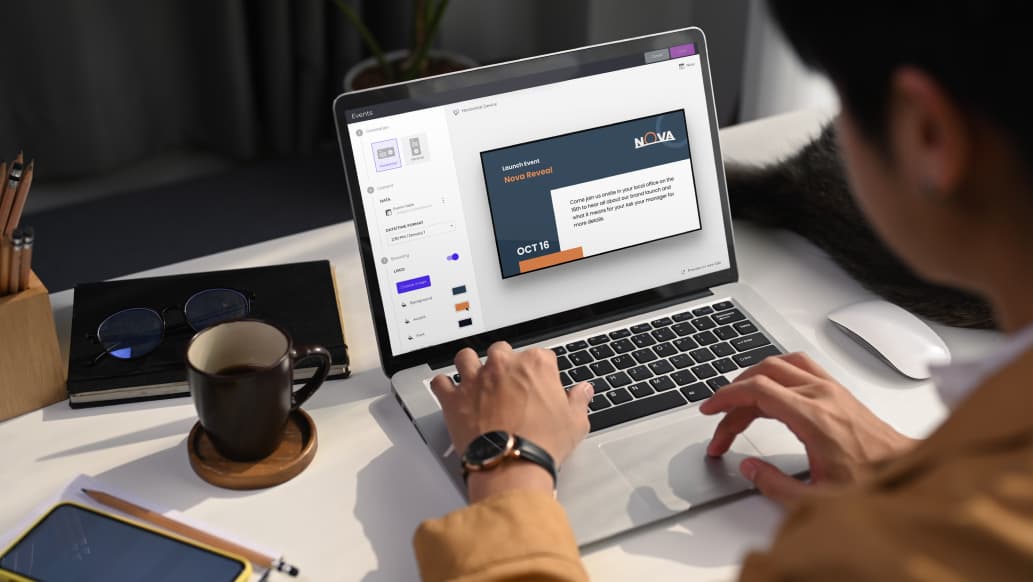 Library & Templates
It's now easier than ever to keep your screens updated with fresh, relevant content. Whether you want to create and store your own content, or browse templatized options to get started, we've got you covered. Simple app builders make it easy for non-technical content contributors to easily publish common applications and customize pre-built templates.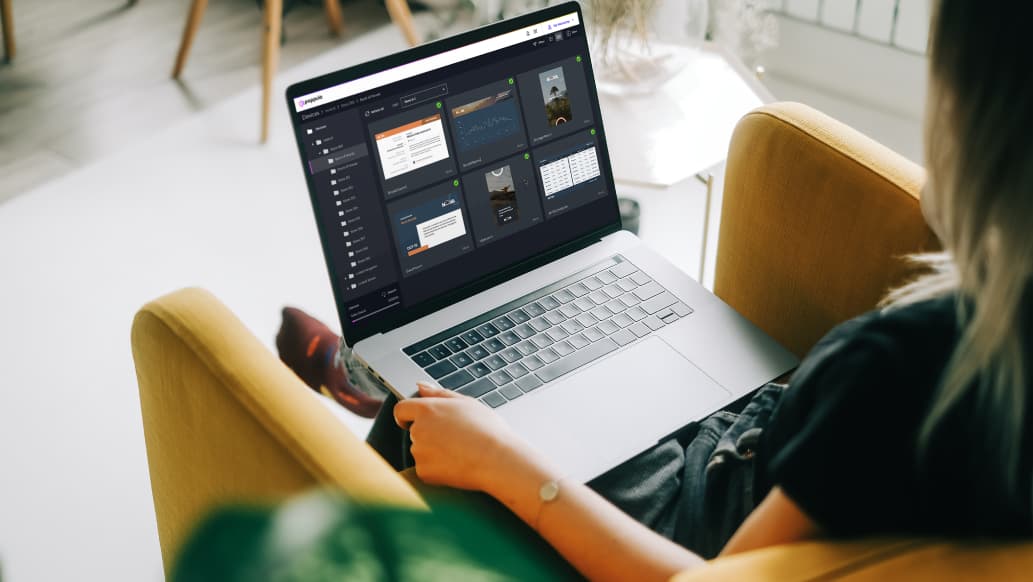 Device Management
As your network scales, our platform makes it easy to remotely license, manage, and monitor all of your devices. In addition to the ability to easily bring new devices online from anywhere, our platform gives you a centralized view of every deployed device and the ability to take real-time screenshots from any device, simplifying troubleshooting.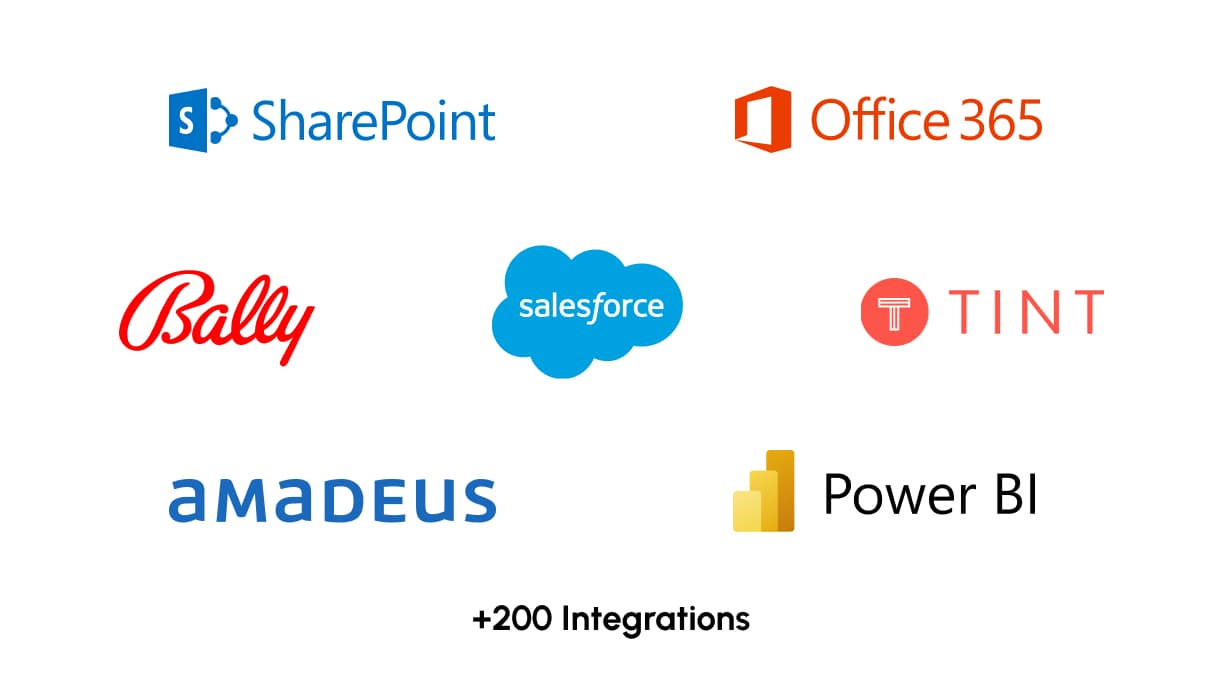 Integrations & Visualization
Integrate with third-party data sources to create dynamic visualizations that drive operational efficiency and performance. By leveraging existing data, you can ensure data is real-time and also automate the content creation process.
Hardware Components
Choosing from a wide range of hardware component options for cloud digital signage allows you to find the one that's right for your budget, needs, and application requirements.
Players
Poppulo's content player options span a variety of platforms, giving you the flexibility to get the message out to your employees and customers.
Video Walls & Displays
Providing immersive experiences for your audience is easier with touchscreen functionality and other display options for Poppulo's digital signage.
Hardware Services
Poppulo offers more than just the most powerful, user-friendly digital signage software on the market, we also provide extensive in-house professional services to ensure long-term success.
See More of What Poppulo Has to Offer
Related Industries
Digital signage is relied on across almost every industry. But a few industries rely on it the most.
Financial Services
Keep clients, employees, and investors engaged. Poppulo Harmony's omnichannel comms platform makes sharing key messaging with a wide variety of stakeholders easy.
Technology
An industry that evolves quickly needs scalable internal communications and workplace management solutions. The Poppulo Harmony platform delivers that, helping you keep up with the speed of the tech industry.
Hospitality and Entertainment
To improve the guest experience, you have to connect with your guests and visitors—giving them information when and where they need it. See how Harmony can help.
Deliver digital signage solutions that engage your most important audiences