Customer Story
Consolidating Digital Signage Platforms at the Abu Dhabi National Exhibition Centre
Consolidating digital signage platforms
↓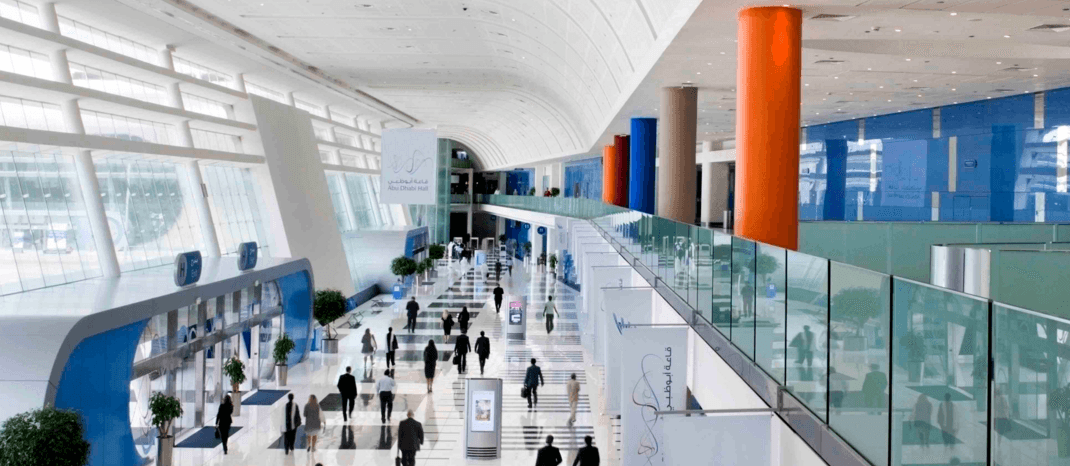 The Abu Dhabi National Exhibition Centre (ADNEC) is one of the largest convention facilities in the Middle East and is considered the premier event location In the UAE region.
Introduction
With 133,000 square meters of event space, the venue flawlessly blends first-class amenities, technology, dedicated customer service professionals and grandeur together, making ADNEC the obvious choice for events of all sizes. ADNEC's prominence in the world's event venue landscape is undeniable, garnering numerous local, national, and international awards for excellence.
But when the Exhibition Centre opened, all of its digital signs were managed by a competing platform. However, a lack of functionality prompted the ADNEC team to search for a replacement to the incumbent solution.
The Exhibition Centre selected Poppulo (formerly Four Winds Interactive) to consolidate the management of its wayfinding, informational, and meeting room applications under one easy-to-use software platform.
The Challenge:
Hindered by its previous provider, ADNEC made the switch to Poppulo for improved flexibility, scalability, functionality, and an intuitive user interface.
The Exhibition Centre expected a quick transition, rapid expansion capabilities, and advanced training opportunities. ADNEC's dedication to providing a premier guest experience required minimal screen downtime and no interruption to daily operations during the transition. This was paramount for the physical installation as well as the back-of-house content management. The Exhibition Centre also wanted to ensure its initial hardware investment wasn't wasted, requiring Poppulo to use the existing displays.
The Solution:
Working closely with the ADNEC IT department, Poppulo was able to complete the entire transition within 24 hours.
There were no operational disruptions, and all content was migrated over seamlessly.
After a two-hour training on Poppulo's advanced software capabilities, the ADNEC team was ready to manage all scheduling, template, design, and content updates. The Harmony platform easily handles the various endpoints, optimizing the management of all meeting room signage, informational kiosks, wayfinding stations, and video walls. ADNEC's Visual Communications network now encompasses 83 screens and is rapidly expanding.
The Results
The transition to Poppulo's enterprise Visual Communications solution exceeded ADNEC's expectations.
In order to maximize ADNEC's initial investment, Poppulo installed its software on the Exhibition Centre's existing hardware, saving the venue money and expediting the transition process.