Customer Story
How the Experian UK&I team increased the impact of their digital messages by streamlining their internal email
Experian UK&I
↓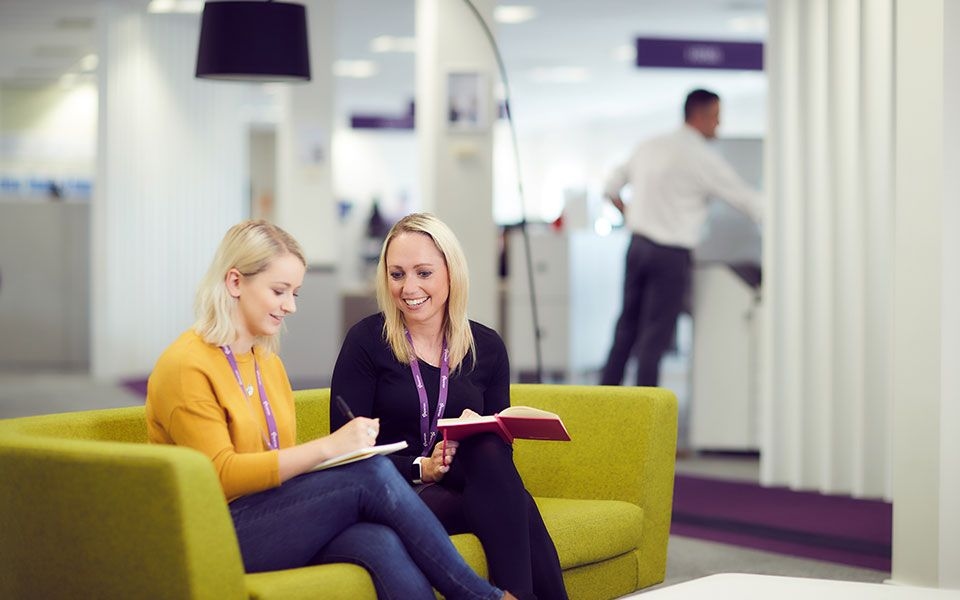 The Challenge
Richard says their challenge was to review and reboot how they were communicating with employees. His team began by conducting a content and channel audit. They found that email was a top tool for communication – but there was no strategy in place to manage what was being sent, when and how often.
We recognized in the audit that every single month we were sending out 25-30 emails to the entire organization. That was simply way too much.
The Solution
Using Poppulo, the Experian UK&I Internal Communication team implemented a strategy for their email communications. This strategy includes:
Introduction of a weekly email newsletter – To help decrease emails sent, the team introduced a weekly newsletter, Switched On. It consolidated many emails that were being sent, and used personalization and targeting based on office location, department and title to provide only content that was timely and relevant to each employee.
Use of single emails for must-read messages – Now that the team had consolidated content, Richard says they could then send important messages sparingly, such as singular emails from a senior leader, to ensure these messages stood out in the inboxes.
Manager briefing pack – Recognizing the value and impact of managers in delivering information to their teams face-to-face, the Experian IC team introduced a monthly information pack for their 900 people managers, distributed via email.
Use of email as part of a multichannel strategy – The team used email to drive adoption of the organization's intranet and to raise awareness of initiatives such as their annual Compliance Awareness Week.
Identify opportunities to reduce emails – Each quarter when financial results were announced Richard said it would generate numerous emails from leaders at various levels of the organization, with nuanced messages. This made it difficult for people to clearly understand how the results impacted them. His team began pulling together the global, regional and business line information into a simple infographic – and posted this on the intranet. They also embed and send the infographic out in a single newsletter (a Switched On special edition) across the organization when financial results are being announced, along with the three messages from their Global CEO, their regional Managing Director and the leader of their part of the business so everything is now in one place, in their inbox.
Key Takeaways
By streamlining their email communications the Experian UK&I team have seen far greater impact of their digital messages. On top of this they now have access to insight and measurement to understand how their email communications are being received.
Some of the insight they've gained:
Increased engagement by consolidating messages – By introducing a weekly Switched On newsletter, The IC team were able to reduce 27 emails a month to 4-5 emails a month. Two-thirds of their employees regularly open Switched On every week – with clicks in the 20-25% range.
Decreased 'production' workload and duplication for business partners – By being able to target articles based on business area and office location within their weekly newsletter, Experian, were also able to reduce the number of local newsletters – instead including these regional articles in the weekly newsletter. "This has meant our business partners can now concentrate on content rather than production, and instead spend more time on their higher-value interactions with their leadership teams."
Helps drive uptake of the manager pack – "We know from direct feedback the manager pack is fulfilling a need; so we have continued creating a monthly pack. It is available on the intranet. We also use our manager email communications to push out the pack to managers. The emails are really helping drive uptake. We regularly achieve 80% open rates, with 50% reading the pack each month."
Ensures senior leader and urgent messages stand out – Because of the weekly newsletter, they've significantly reduced the number of singular emails sent out. "We now see a much higher spike in readership of important messages. Our newsletter readership is pretty much in line with industry benchmarks – 60-70% open rates. But readership of our singular emails get even higher opens – typically at or above the 80% mark. In one urgent message sent on a quiet Friday afternoon we saw an impressive 65% click-through to either watch the video interview with our MD – or read the transcript, within an hour of sending. By reducing the noise we've made room for the important stuff to get through, making this as close to a silver bullet as you could wish for."
Measure email's contribution to raising awareness of initiatives – The IC team helped compliance create a theme to heighten interest around their Compliance Awareness Week campaign. "It has been so successful they've been running the same theme for three years now. We help drive Compliance Week awareness through email. This year 80% of employees read the email when it went out during Compliance Week. Any day of the week I would take 80% readership on a Compliance Awareness Week email!"
Richard and his team have transformed internal communications at Experian UK&I. In 2014 their achievements were recognized by peers when they won the Best In-House Team award from the Institute of Internal Communications (IoIC).
We use Poppulo to target and personalize emails to employees based on their office location, department and title. We've reduced twenty-seven email communications a month to about four.

— Richard Donovan, Head of Internal Communications, at Experian UK&I