Customer Story
Improving the Workplace Experience at Delta Air Lines' HQ With a Biometric Hoteling Solution
Enhancing the employee experience with digital signage.
↓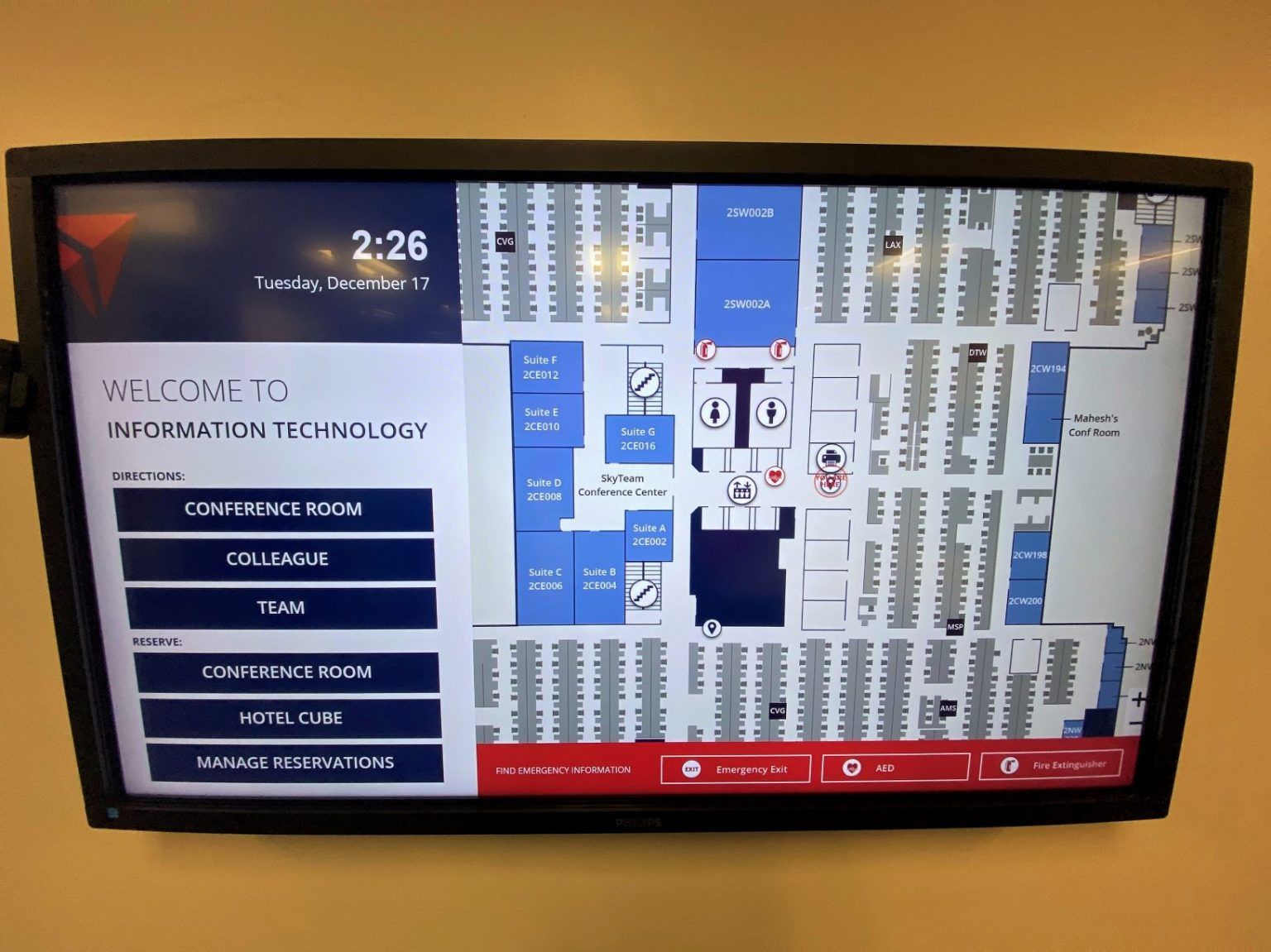 Learn how Delta Air Lines solved a common office problem with a combination of existing technology and the right integrations.
Introduction
While Delta Air Lines first selected (Poppulo) to replace a legacy digital signage platform in 2013, the company's use of digital signage continues to evolve.
Today, Delta uses (Poppulo's) platform to power over 37 applications across 950+ endpoints. The latest application deployed in 2019 integrates customer-facing technology to solve common workplace challenges.
The Challenge:
Delta Air Lines, based in Atlanta, Georgia is home to over 8,500 employees.
The corporate campus is spread across 10 buildings, all adjacent to Atlanta's Hartsfield-Jackson Airport. Delta's IT department is 4,000 people strong, with 2,250 Atlanta- based employees occupying nine different floors in four different buildings. The main IT floor is comprised of 1,040 cubes and offices, yet that floor has approximately 1,400 employees. Adding to this workstation shortage are 900 Minneapolis-based employees who frequently travel to Atlanta for meetings and work assignments.
All of them need a place to sit.
To solve this challenge, IT implemented a generous work from home policy allowing employees to work remotely 2 days a week. While this helped with overcrowding to an extent, management quickly realized that in order to continue onboarding new employees and provide everyone a workspace, a more targeted approach was needed.
To solve the problem, the floor was divided into neighborhoods that aligned with the employee's leaders. Then, within each neighborhood, hotel cubes were designated for employees who didn't have an assigned seat. Initially, cubes were first come, first served. However, two problems quickly surfaced. One; employees tried to claim specific cubes as theirs. And secondly; nobody could find the people they needed to. Conflicts and confusion arose from people trying to find a place to work or trying to locate a coworker. And those issues distracted from productivity. An additional, intuitive solution was necessary.
The Solution:
Delta turned to (Poppulo) to develop a solution that would provide wayfinding and reservation functions for employees needing hotel cubes.
The Delta project team partnered with NEC to integrate their facial recognition technology into the wayfinding application. As Delta had already created the world's first biometric terminal for its customers—and the solution was highly successful—Delta IT wanted to repurpose the concept. The idea immediately resonated with Delta's leadership.
Delta IT wrote a middleware component prior to launching NEC's facial recognition service, which ran continuously in the background. From there, (Poppulo) invoked a request to NEC's service through the sign build, which captured an image and compared it to Delta's ID badge images. Then, the solution determined whether the individual was included in the active directory and compared it to Sharepoint, which would check if they already had a cube assignment or if they were free to book a cube.
The Results
Delta deployed the solution to four strategic locations on the floor near the main ingress points.
The solution quickly proved itself successful by creating a central source of truth regarding which cubes were reserved and who had reserved them. By removing ambiguity from the hoteling process, employees were free to focus on work instead of stressing about where to sit.