Customer Story
Increasing the representation of diverse faces and voices throughout the organization at Volkswagen Financial Services UK Ltd.
When one of the world's largest car finance companies used Poppulo to launch a DE&I employee engagement initiative, it saw instant results – including an 80 percent open rate in its weekly newsletter.
↓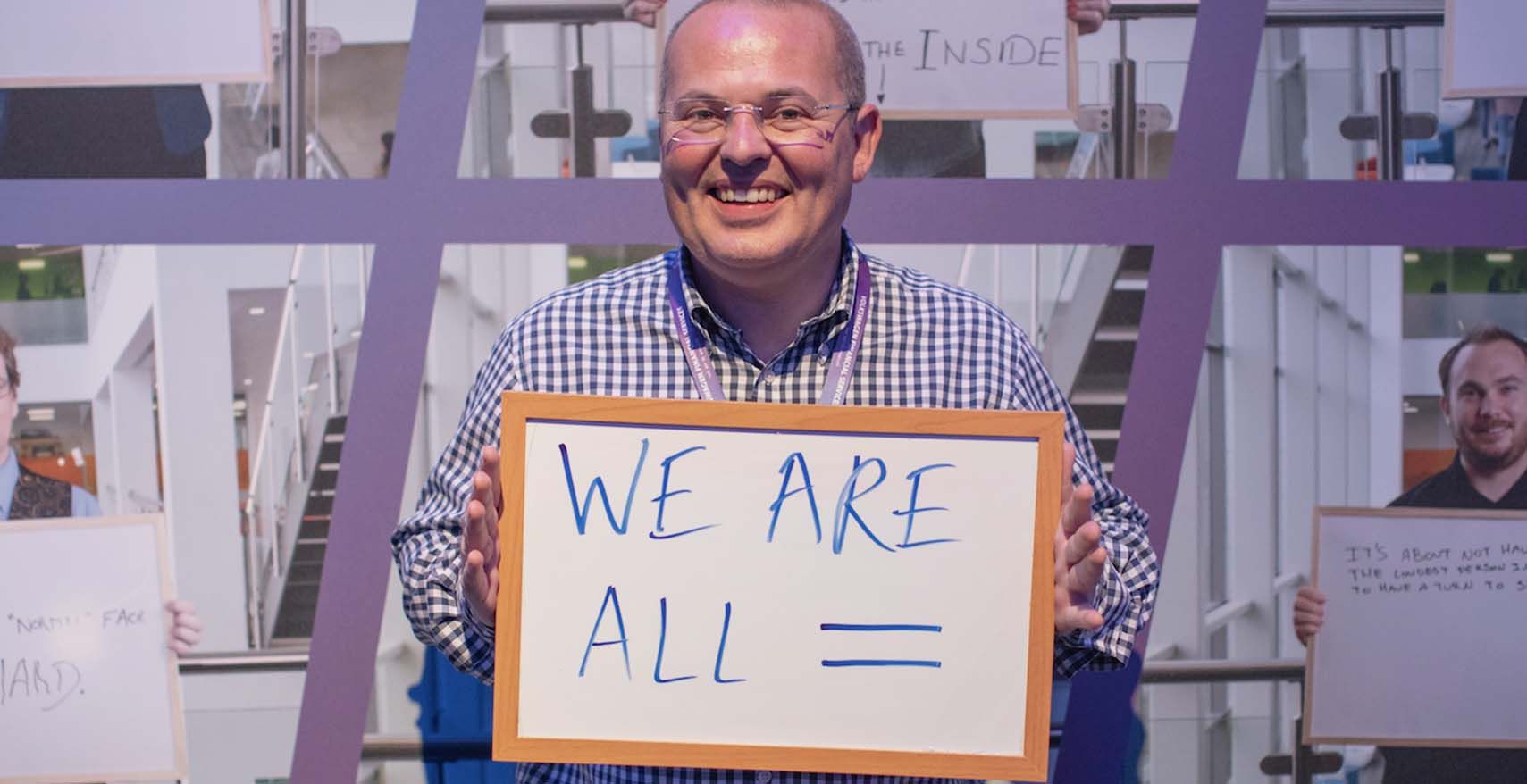 About the organization
Volkswagen Financial Services UK Ltd (VWFS) is the banking and leasing division for the automotive manufacturer's operations in the United Kingdom.
THE CHALLENGE
VWFS kicked off an entirely new DE&I initiative after an open forum where senior executives listened to a diverse group of employees share their experiences. Deeply touched by what they heard; management decided to relay these stories to others in the organization. Using Poppulo's omnichannel platform, a full-blown DE&I communications program has since taken root and become a permanent part of the VWFS culture. The new approach incorporated three components: listening, educating and change. The General Manager of Communications and Engagement is one of the project leads and explains,"We wanted to cultivate a work environment that is open, authentic and based on trust, and enable employees to be their true, authentic selves 100% of the time."
Goals included:
Enabling people to confidently speak up and tell their stories.
Celebrating and embracing differences and utilizing those differences to achieve the best business results.
Removing bias and ensuring the same opportunities are available to everyone.
Sharing the diverse culture with external audiences, making VWFS a desirable place to work – for everyone.
THE SOLUTION
VWFS leveraged Poppulo to foster a true sense of belonging amongst all employees:
Internal Communications kicked-off its new communications and engagement strategy with an off-site event where it asked all the employees what diversity meant to them. The insights learned were used in follow-up Poppulo campaigns.
Next, IC invited people to meet with Board Members and senior management to discuss DE&I in a safe, open environment coined Creative Coffee. The entire Board and 30 employees participated. In an emotional and eye-opening session, employees shared heart-wrenching stories of discrimination, whether it was in childhood, the workplace, society, due to the color of their skin, disability, religion or sexual orientation.
IC worked with employees to create a series of videos themed 100% Me. Poppulo's omnichannel platform gave the employees a safe platform to share these stories and bring them to life.
RESULTS
Today, the 100% Me series celebrates all different types of diversity including ethnic, racial, sexual, neuro and religious diversity. In addition to the videos, each week the Poppulo newsletter focuses on a different type of story, ranging from the meaning behind the Pride flag to who inspires you in the organization.
VWFS is not afraid to make it fun. For example, IC took advantage of how the UK celebrates National Superhero Day and decided to honor its "diversity superheroes". Using Poppulo, employees nominated colleagues who were fostering DE&I. Poppulo's custom banners and drag and drop components made executing the campaign easy. The campaign culminated with a winners "reveal" on National Superhero Day – celebrating those employees who heroically act with integrity to inspire positive change in the business. They added a superhero name generator, and the response was overwhelming with an 81% open rate.
TOP TAKEAWAYS
The General Manager sums up the impact it made, "By changing the behaviors and the mindset from the inside out, VWFS naturally and organically started growing the diversity of the business rather than focusing on quotas and not doing things in a true, authentic way. For the first time, people within the business are starting to understand how diverse VWFS is as an organization."
Today, the 100% Me videos are on the company LinkedIn feed so that anyone can listen to the information rather than just reading it. VWFS has had positive feedback from job applicants who cite the videos as the reason they applied there. For example, one new hire said, "It made me feel more confident during the interview process."
VWFS expanded the 100% Me series to include sensitivity videos where employees provide short videos about terms they find derogatory or offensive and why, and what are more the appropriate terms to use. Since people want to talk about DE&I, but are reluctant to, for fear of getting it wrong, these videos help people feel more comfortable about getting it right.
The company now has DE&I advocates in every department. Managers across the organization are onboard. Today, the 1,200 employees at VWFS are more informed, engaged, and motivated.
VWFS has surpassed the goals it set for its communications initiatives. Thanks to these efforts, being part of a global organization means that having a diverse and inclusive company is not only a priority but is something to celebrate.
VWFS continues to place DE&I at the top of its agenda and is currently launching a reciprocal mentoring program that will enable better two-way communication, aid broader understanding of some of the challenges faced by individuals and drive a more open and inclusive culture.
She concludes, "Poppulo is a great way to deliver the message and help us celebrate those people who act with integrity to create positive change in the business."