Customer Story
Leveraging Digital Signage to Deliver Localized Content to Thousands of Locations
Deploying localized content at scale.
↓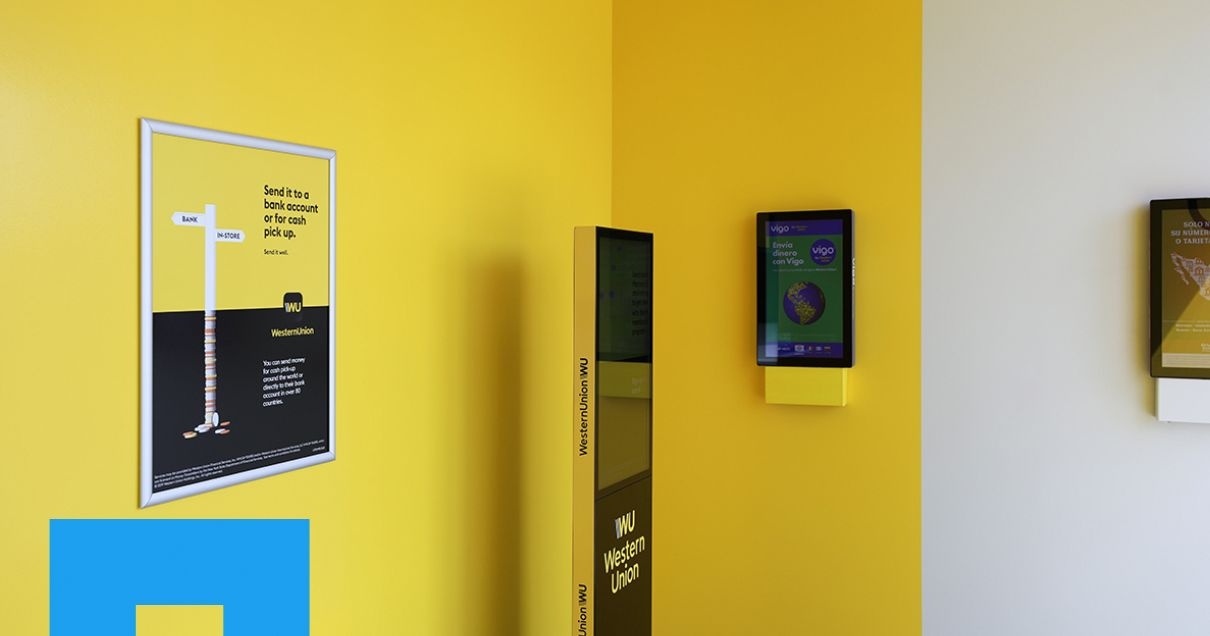 Western Union is an expert at bridging the gap between faraway places, enabling money transfers between people via their website, app, or in person at hundreds of thousands of Agent locations.
Introduction
Western Union believes that when money is able to move quickly and reliably, big things happen, communities are strengthened, and family members are connected. By believing in the idea that there is a better way, Western Union has innovated the way its customers have connected across borders for over 168 years.
The Challenge:
Western Union's original investment in digital signage proved that point-of-purchase signage impacted transactions. But the solution could not scale.
Western Union needed a way to scale its retail digital signage program quickly, while simultaneously streamlining the management of its screens. Additionally, the team sought a way to dynamically deliver important, localized information to each sign in order to provide its customers' access to information about foreign exchange rates, fees, and more. Instead of displaying generic content, Western Union needed a way to provide local content at large scale, plus find a software platform capable of integrating with its exiting screens.
The Solution:
After searching for the right partner to scale their vision, Western Union selected (Poppulo). In conjunction with WU's hardware provider, Kiosk Information Systems, (Poppulo) created a solution that delivers big results with minimal management.
(Poppulo) developed an enterprise strategy to help increase transaction volume by dynamically delivering local content. After working closely with (Poppulo)'s creative team and technical experts, the WU team learned that (Poppulo)'s platform could dynamically program in-store content based on point-of-sale data. And in addition to that content, WU could add general marketing messages to the mix, ensuring that customers have access to the information they need to make the best money transfer decision while also learning about the company's latest products and offers. And the entire solution is managed by a team of three people, all of whom have many additional responsibilities, outside of digital signage.
The Results
Western Union was able to rapidly scale its digital signage network while simultaneously delivering a mix of global and localized content to thousands of stores across the United States and Canada.
Western Union saw a significant business impact, saved almost $1M in hardware, and scaled its new solution to 2,000 Agent locations in one year. And the localization aspect requires no manual intervention, as the signs update themselves with the correct foreign exchange rates, fees, and more.