Customer Story
Why a Leading Healthcare Services Provider Relies on FWI Cloud to Communicate With its Frontline Workers
Communicating rapidly in times of change.
↓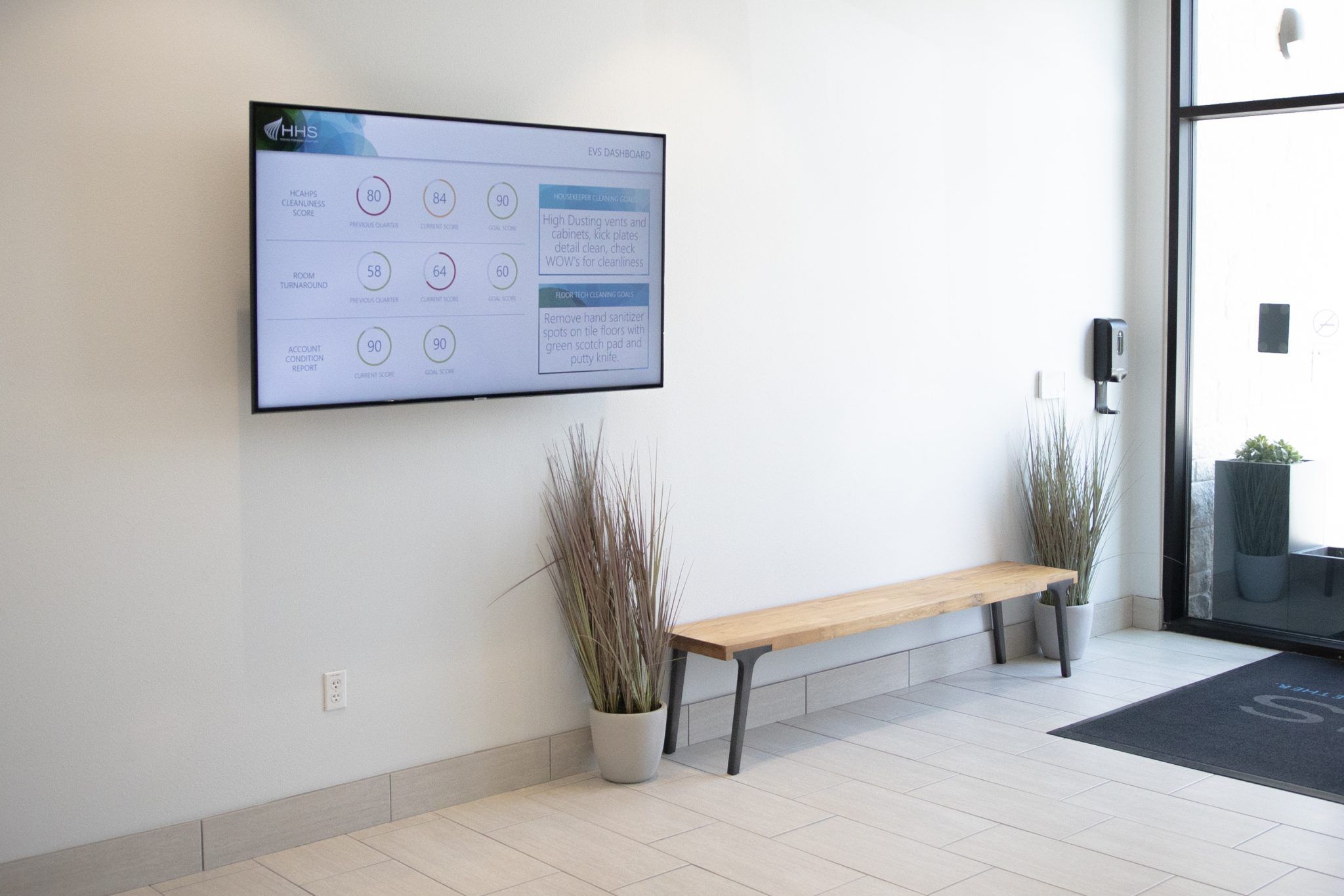 Over the course of its 45 years in the support services industry, HHS, formerly Hospital Housekeeping Systems, has developed industry-leading best practices and programs that span a variety of services and are relied on in the healthcare, senior living, resorts, government, education, and aviation industries.
Introduction
In its pursuit to deliver exceptional services, ranging from housekeeping, facilities management, culinary, and more, HHS has always been an early adopter of new technologies. At the end of 2017, the company decided to implement a nationwide digital signage network, with the goal of improving communications to its 17,000 dispersed team members. After proving that digital signage was the best channel for one-to-many communications for its employees, HHS sought an easier way to manage its signage network.
The Challenge:
With its legacy digital signage platform, content updates were manual and time-consuming, preventing content localization and making it difficult to scale. To improve its digital signage capabilities, HHS began looking for a new platform.
In addition to the daily challenges presented by an antiquated content contribution process, HHS also sought a digital signage platform capable of integrating with Salesforce to display real-time metrics—per location and region—further streamlining the company's ability to ensure content relevancy and improve employee productivity across its dispersed workforce. With an eye toward the future, HHS knew it needed a more flexible platform, one that could be adapted to quickly fit any one-to-many communications needed, whether driven by company direction or by the need for emergency response. Also recognizing digital signage as the most effective way to reach its workforce and deliver relevant information, HHS needed its new platform to be able to scale easily and simplify device management—not an easy feat given the scope of the company's national digital signage network.
The Solution:
After selecting (Poppulo) to replace its legacy signage provider in 2018, HHS drastically improved its digital signage management capabilities, gaining access to key data integrations to automate and localize aspects of its content mix, advanced application authoring tools, and more.
Leveraging a pre-built integration for Salesforce, HHS easily pulls performance data, individual location goals, employee information, and more simplifying previously time-consuming processes and eliminating the need for managers to manually update dry erase boards. However, after learning about FWI Cloud—(Poppulo)'s latest advancement in digital signage content contribution, network and user administration, and device management—HHS decided to upgrade. Capitalizing on the ability to leverage data-driven tables, HHS uses FWI Cloud to ensure regional, local, and company-wide content reaches its employees, plus gains the ability to easily update those data tables on the fly.
The Results
(Poppulo)'s healthcare digital signage platform gives HHS the ability to further optimize its employee communication strategies and continue to innovate how its services are delivered.
With pre-built data integrations as well as employee engagement applications, HHS has the flexibility to deliver both global corporate communications content while also gaining the ability to display regional and location-specific performance metrics.