Customer
Communications
Create an immersive customer experience that drives repeat visits.
Bring Harmony to Your Customer Experience
With your customer comms powered by the Harmony platform, you can easily create the experience that customers expect, with digital signage displays designed to impact multiple aspects of the in-person experience.
Guest Comms
Find out how you can engage your guests with real-time, accurate information about your property so they can make the most of their stay, and your business can improve onsite spend.
Promote onsite amenities to drive revenue

Manage menuboards, readbords, meeting room signs, and more

Make content updates on the fly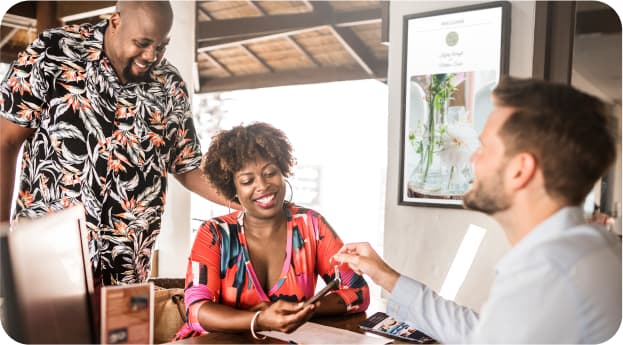 Patient Comms
Poppulo's complete patient communication solution helps to reduce wait times, improve wayfinding, and keep patients entertained as they wait, all with one platform. Now, that's harmony.
Make sure all patients, visitors, and staff can navigate your facility

Highlight and reinforce any safety procedures

Get an end-to-end comms solution for your facility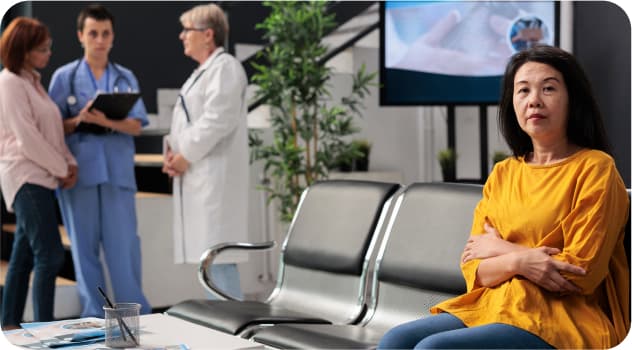 Traveler Comms
Reduce travel stress and improve the passenger experience by displaying important information on digital signs throughout your facility.
Leverage data integrations to power multiple Information Display Systems

Easily manage content, devices, and user permissions

Improve passenger navigation and traffic flow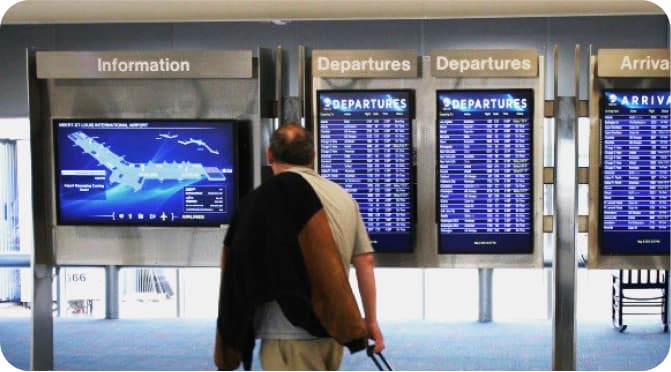 Brand & advertising comms
Create an impactful brand experience that captures customer attention from the moment they walk in, so you can increase customer spend and loyalty.
Create an immersive experience to differentiate your store from competitors

Display targeted promotions and advertising on your in-store digital displays

Promote your brand with eye-catching content, increasing customer loyalty and brand awareness
Wayfinding & Directories
Maximize the way your customers interact with your facility with the industry's most user-friendly guided wayfinding. Help them find on-site amenities, event spaces, food and beverage outlets, specific departments, and more.
Dynamic, static, and interactive options

Routing algorithms generate the shortest path and, when needed, multiple path options

Real-time route and location updates at the tap of a finger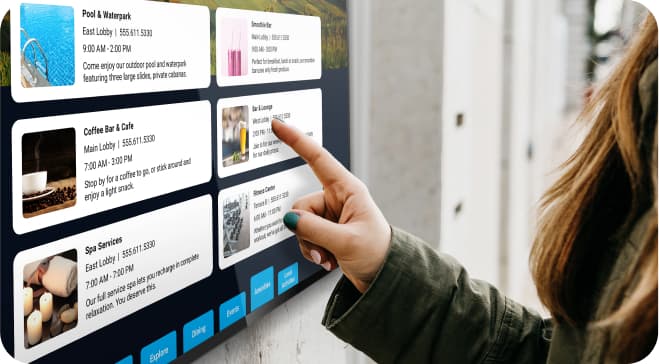 Video Walls & Lobby Experiences
Cut through the clutter and showcase your products, services, and brand with immersive experiences. Make it easy to reach massive audiences in a memorable way, whether you're in a sold-out stadium, a jam-packed airport, or a bustling college campus.
Designed for multiple content formats and sizes

Remote scheduling and management

Dynamic, static, and interactive capabilities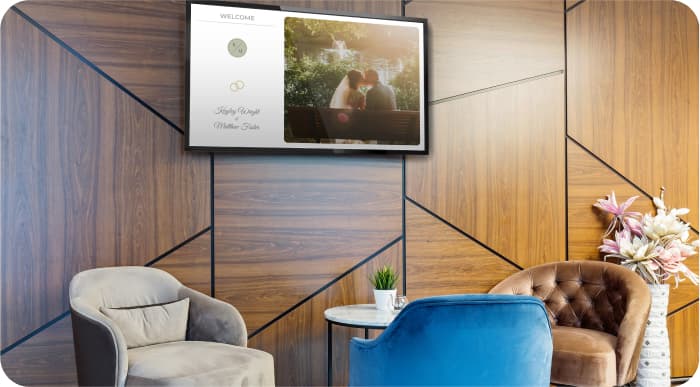 Case Studies
See how the Poppulo Harmony platform helps businesses across the globe.
Industries We Serve
Discover how the Poppulo Harmony platform delivers personalized communications solutions for your industry.
Manufacturing
Reach manufacturing workers to drive productivity, reduce recordable incidents, and engage your deskless workforce wherever they are.
Financial Services
Keep clients, employees, and investors engaged. Poppulo Harmony's omnichannel comms platform makes sharing key messaging with a wide variety of stakeholders easy.
Technology
An industry that evolves quickly needs scalable internal communications and workplace management solutions. The Poppulo Harmony platform delivers that, helping you keep up with the speed of the tech industry.
Healthcare
Healthcare facilities are complex environments that make traditional comms difficult. The Harmony platform allows you to simplify comms and connect with patients, visitors, and frontline workers on a variety of channels.
Transportation
With the Harmony platform, you can provide detailed wayfinding, power any type of Information Display System, and keep both employees and passengers informed and moving toward their destination with ease.
Retail
You used to have to leverage separate technologies to reach customers and employees. With the Harmony platform, you can create immersive customer experiences on digital signage, plus reach and engage deskless workers across a variety of comms channels.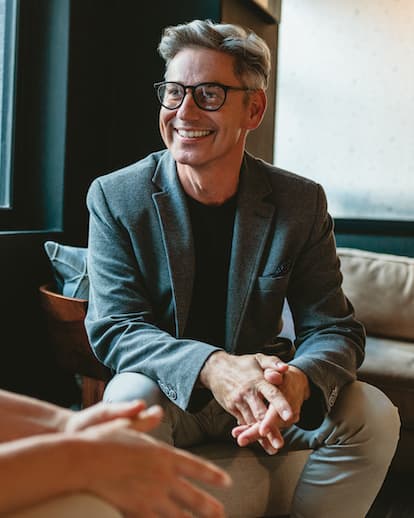 Addressing Key Retail Priorities: Meeting the Expectations of Consumers & Employees
Learn how retailers can leverage digital signage and other communications technology to enhance the customer experience, drive revenue growth, and improve operations in stores and distribution centers.
Ready to take your communications to the next level?