Guest
Communications
Deliver a more personalized and impactful guest experience.
An End-to-End Solution for Your Property
Engage your guests with real-time, accurate information about your property so they can make the most of their stay.
Improve Guest Satisfaction
The right guest comms—at just the right moment in time—can improve your GSS score, increase brand loyalty, and drive return visits.
Win More High-Margin Event Business
Quickly transform your space into an event planner's space to show them how your property can create a more personalized experience for their attendees.
Drive Additional Revenue
Use digital lobby signage and other screens throughout your property to promote on-site amenities, highlight promotions, and upsell branded advertising space.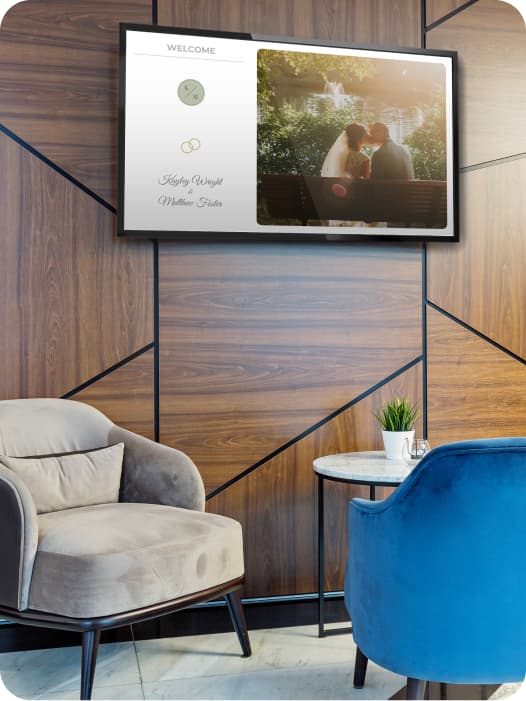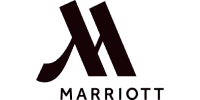 35+ million
Employees Reached
47
of Fortune 100 Companies
500,000+
Digital Signs Powered
50 million
Messages/Week
Make an Impact
From the moment a guest enters your property, you have the opportunity to impress them. Seize that opportunity. Use digital signage to make an impact.
Make a statement with a high-impact video wall

Provide up-to-date info about events with a reader board solution

Personalize on-screen content on-the-fly
Learn About Digital Signage
Integrate with Your Systems
The Poppulo Harmony platform integrates seamlessly with your existing event management system and other back-end systems.
Dynamically display event information

Show up-to-date weather and traffic information

Show near real-time flight statuses
Learn About Integrations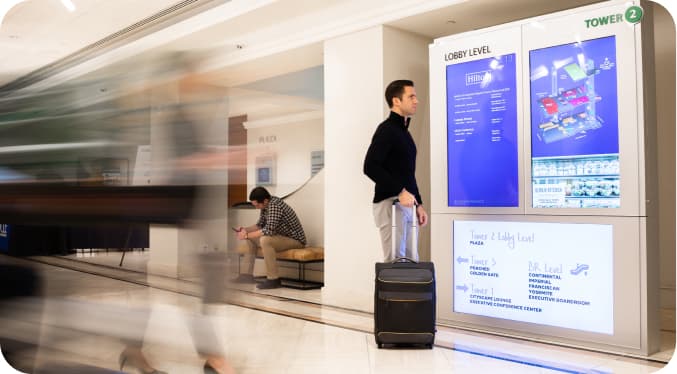 Align the Employee and Customer Experience
The employee experience drives the customer experience. Deliver relevant info to employees—across multiple channels—to improve both the customer and employee experience.
Deliver content on digital signage, mobile, and email

Inform and engage back-of-house staff

Track comms performance across channels
Learn About Employee Comms
See More of What Poppulo Has to Offer
Related Industries
Hospitality & Entertainment
To improve the guest experience, you have to connect with your guests and visitors—giving them information when and where they need it. See how Harmony can help.
Transportation
With the Harmony platform, you can provide detailed wayfinding, power any type of Information Display System, and keep your passengers informed and moving toward their destination with ease.
Leadership Comms that Inspire Your Teams
It used to be almost impossible to communicate effectively with students. The Harmony platform changed that, enabling comms to flow across all channels students rely on.
Competition for event business is fierce. The way we're using the [Poppulo] platform to dynamically personalize signage for incoming site visits gives us a major competitive edge, plus provides an additional revenue stream.
CINDY RAMESH, COMPLEX DIRECTOR OF SALES & MARKETING, HILTON SAN FRANCISCO UNION SQUARE
See what the Harmony platform can do to improve your guest communications.